world's tallest building has reached a new level with plans for a mile-high tower to be built near the Red Sea port of Jeddah in Saudi Arabia. The multi-billionaire owner of the Savoy Hotel in London has unveiled plans for the ambitious £5 billion tower, which will overtake skyscrapers planned or under construction in Kuwait and Dubai.
The Mile High Tower will be double the height of its nearest rival, and will be almost seven times the height of the Canary Wharf tower in London.
dubai city pictures
world most beautifull city dubai
dubai sports complex
Kingdom Holding, which is controlled by billionaire Prince al-Walid bin Talal, will invite bids before July for contracts to build the tower in Saudi Arabia's commercial capital. The project will push architecture and engineering to new limits, as the tower must be robust enough to withstand the extremes of temperature and strong desert winds in the region.
Gulf Arab states, flush with funds from record high oil prices, are trying to outstrip each other to build the world's tallest building. They have opened up a strong gap over east Asian countries in the race, with mega-skyscrapers planned or under construction in Kuwait and the booming United Arab Emirate of Dubai.
setelite view of dubai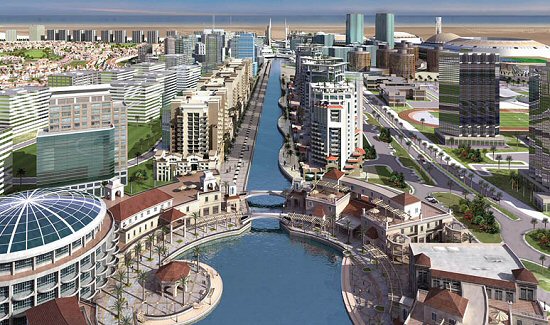 supertall skyscraper under construction in Dubai, United Arab Emirates, and is the tallest man-made structure ever built, despite being incomplete. Construction began on 21 September 2004, and the tower is expected to be completed and ready for occupancy by September 2009.
The building is part of the 2 km2 (0.8 sq mi) development called "Downtown Burj Dubai" at the "First Interchange" along Sheikh Zayed Road at Financial Centre Road (previously known as Doha Street). The tower's architect is Adrian Smith, who worked with Skidmore, Owings and Merrill (SOM) until 2006. The Chicago-based architecture and engineering firm SOM is in charge of the project.